Profile as the name suggests defines the basic detail of the object. Select the Profile tab next to General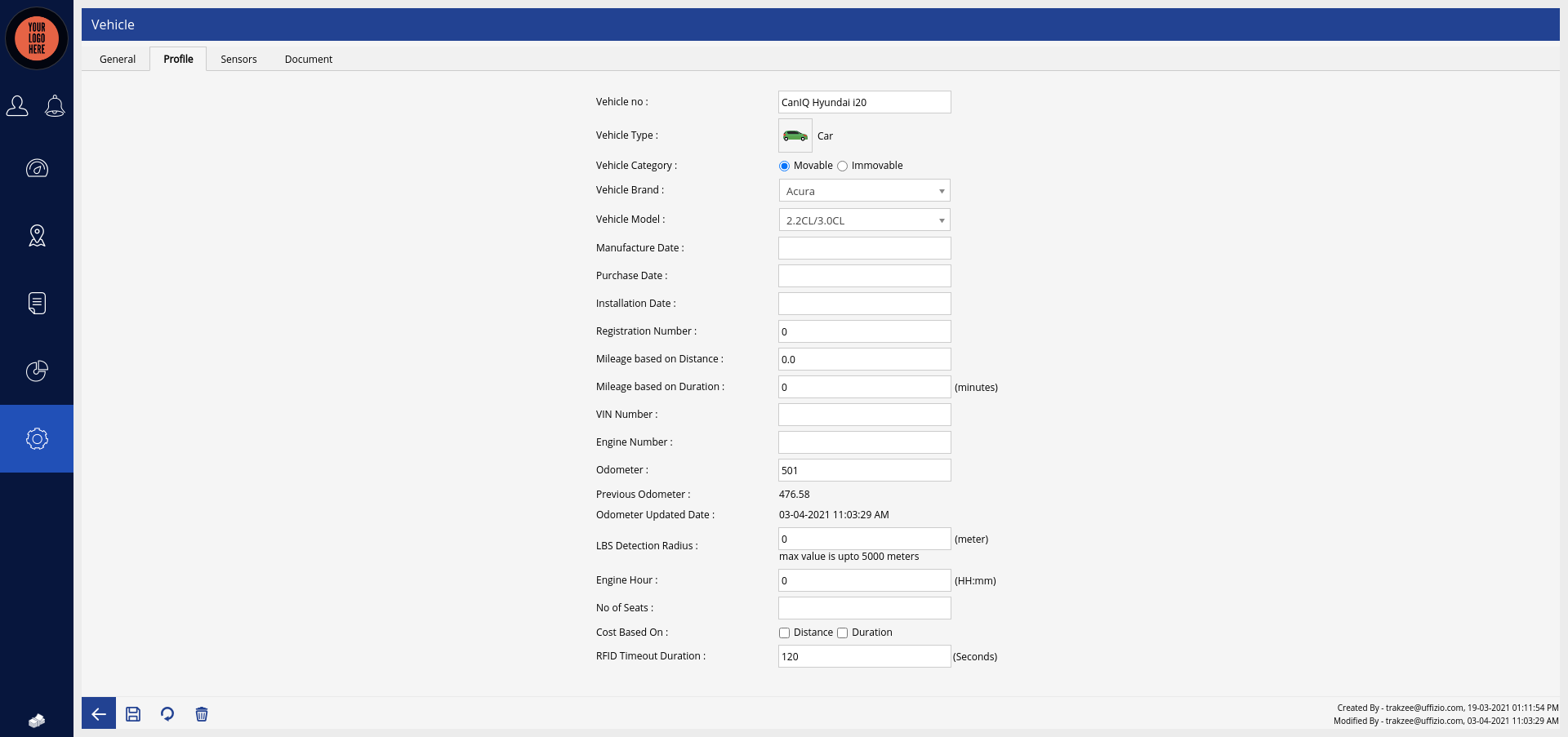 Description for each parameter is mentioned as given below.

Vehicle no: Vehicle number can include Vehicle Identification Number which will appear as its Identification on Web/Mobile platform

Vehicle Type:
From here user can select the icon for that specific object and it will reflect according to selection on the Web/Mobile platform.
Vehicle Category: Vehicles can be categorized in two formats are Movable or Immovable. There can be some vehicle that works a whole day at the same place so those can be selected as Immovable.

Vehicle Brand: The user can select the brand for the vehicle from the drop-down.

Vehicle Model:
Based on Brand selection user will get the list of the vehicle model.
Manufacture Date: The user can enter the manufacturing date when the vehicle was manufactured

Purchase Date: Here user can maintain the Purchase date of the object.

Installation Date: Maintain the installation date of the device.

Registration Number: User can feed registration date of Vehicle in order to maintain the detail.

Mileage based on Distance: How many kilometres/miles the vehicle can travel on an average with 1 litre of fuel. For example, if the vehicle runs 19 km in 1 litre then the user has to enter 19.

Mileage based on Duration: How many minutes/hours the vehicle can travel on an average with 1 litre of fuel
VIN Number: Vehicle Identification number is additionally added in software for the records.

Engine Number:
Engine Number is additionally added in software for the records.
Odometer: The user needs to enter the odometer values as per the vehicle odometer. It is auto-updated in software based on the vehicle travel history in software.

LBS Detection Radius: Location-based service can be detected in software based on the values entered in this field. The software will capture the signal from the cell tower based on this value.

Engine Hour: Engine hour in software is calculated based on these values.

No of Seats: The number of the seat for the vehicle can be added as additional information for the records in software.

Cost-Based On Cost based on Distance and Duration is mostly useful for a rental solution where consideration of the values can be done from this configuration screen.

RFID Timeout Duration: If the RFID scan readers are used then for the consideration of timeout user have to enter that time in the software.

Save the data or reset the data or delete the data.